Yay! Tax season is over, and free time abounds. This is the first Sunday in months that I haven't had to work, and that I was able to sleep in. I spent most of yesterday doing some serious spring cleaning, so I think I'll devote today to leisure.
The baby shower was last Saturday, and I'm happy to say that everything was finished on time, and well received. However, I did stay up rather late in the nights before, seaming, stuffing, blocking and adding buttons and embellishments.
Here are some pictures of the finished products!
For the blanket, I used the Big Bad Baby Blanket pattern from "Stitch 'N Bitch." It's made using Lion Brand Wool-Ease in Ivory Sprinkles. I have a TON of this yarn in my stash, and decided to put it to use. Since I started this blanket before I knew the gender, I figured this would be a nice, geneder-neutral yarn. I'll be making a larger, gender-appropriate blanket later, after the baby is born (so we're certain of the sex), which I'll probably gift to the baby for Christmas.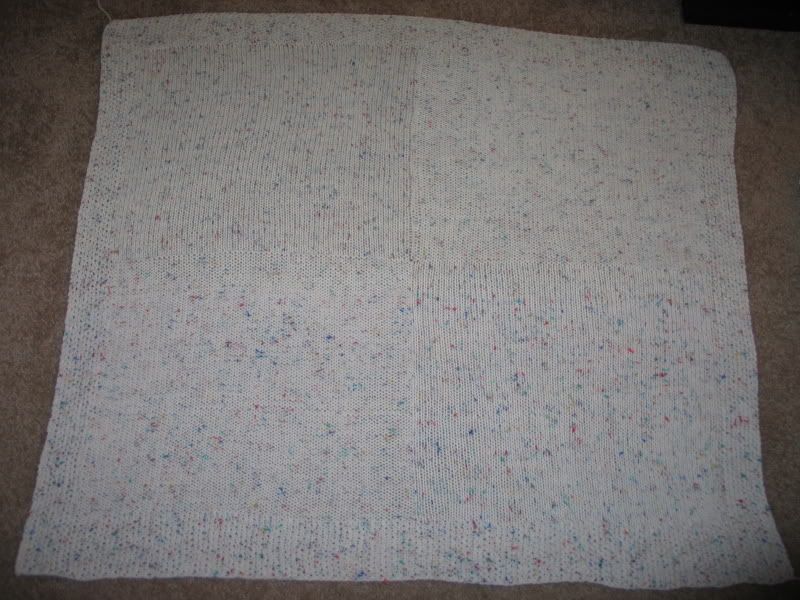 Having barely put a dent into my stash of the Ivory Sprinkles Wool-Ease, I decided to make a teddy bear to match the blanket. I used the Cashmere Teddy Bear pattern from Erika Knight's "Simple Knits for Cherished Babies." No cashmere here, though... This pattern was very easy to make. Though, the bear did come out pretty small. I think it was about 6 or 7 inches tall.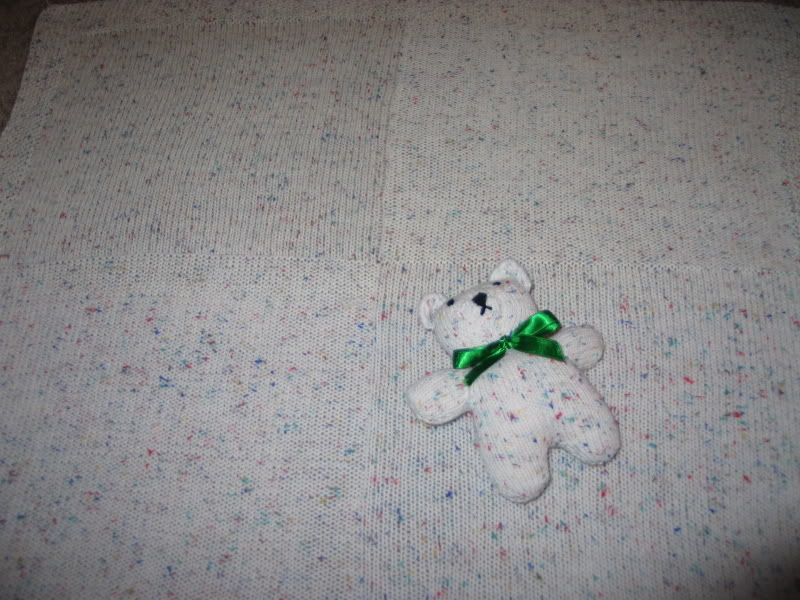 This is the first of the two cardigans I made, using the Daisy pattern from Knitty.com. My seaming skills are still fairly weak, so I had to rip out the seams on this one a couple of times until it looked good. Outside of the seaming, the pattern was a cinch, and it took no time to make up one of these bad boys. I used Caron Simply Soft in Sage. Sure... it's an acrylic, but it knits up very nice, feels great, and is machine washable and dryable. My thinking on baby clothes is that, while making a cashmere sweater for a baby sounds great, it'll never get used, because what new mother has time to hand wash and reshape an item of baby clothing? I'd prefer to give things that the baby can spit up on, without the mother having freaking out that it might be ruined.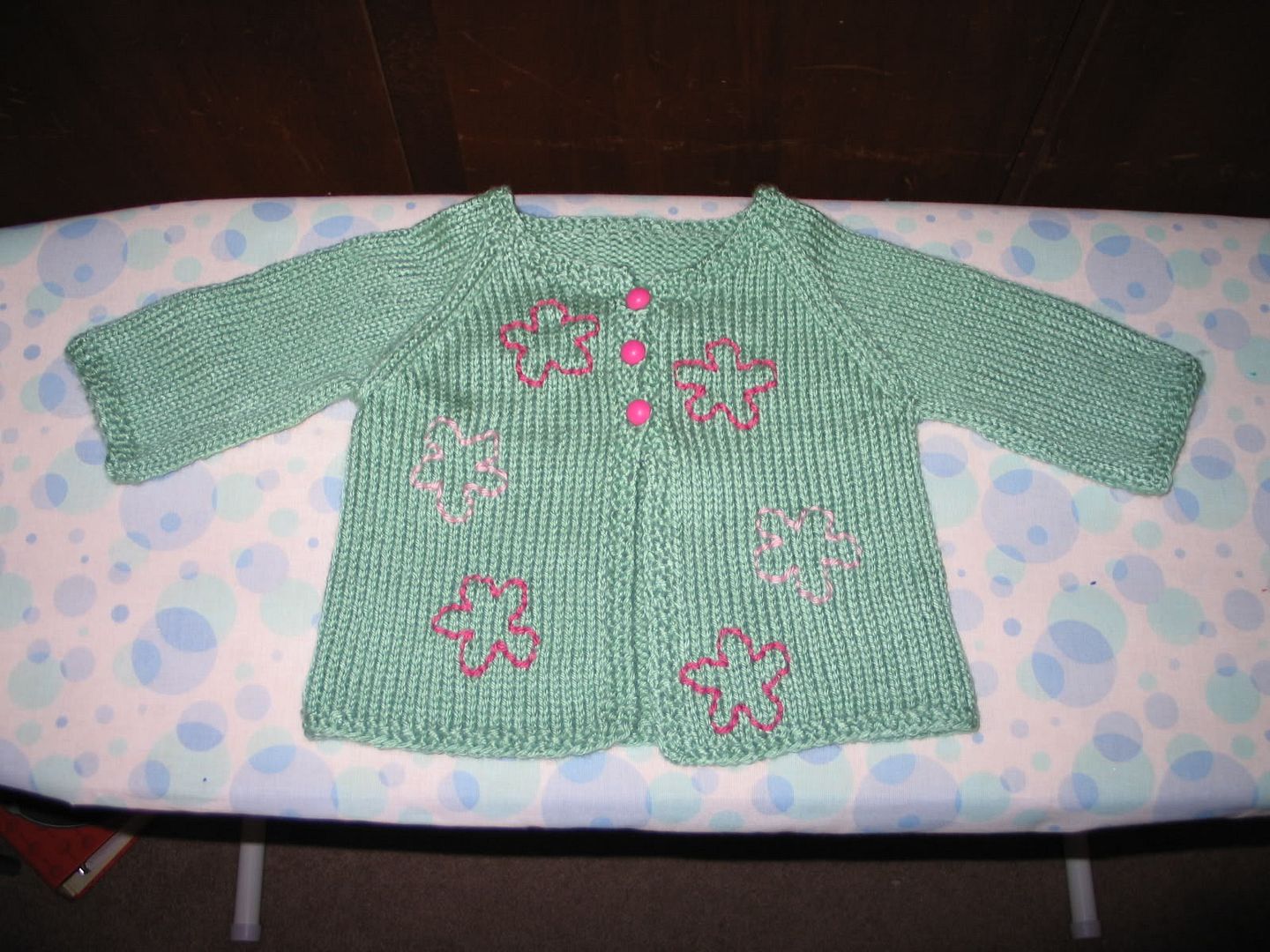 This is sweater number two, which came out a little better than the first, since I had already been through it once before, and knew what mistakes to avoid. Again, I used Caron Simply Soft, only this time in Orchid, which is a really great color. My seams came out much, much better on this one, because I basted before hand, and really took my time sewing it up. I had inherited a bunch of old buttons from my late surrogate Great Grandmother (she was sort of my Great Grandfather's girlfriend, but she had been a friend of the family for a very, very long time, and her and her late husband, and my great grandparents were all good friends). So, for both of the sweaters, I used buttons out of that collection, to give it a very special touch.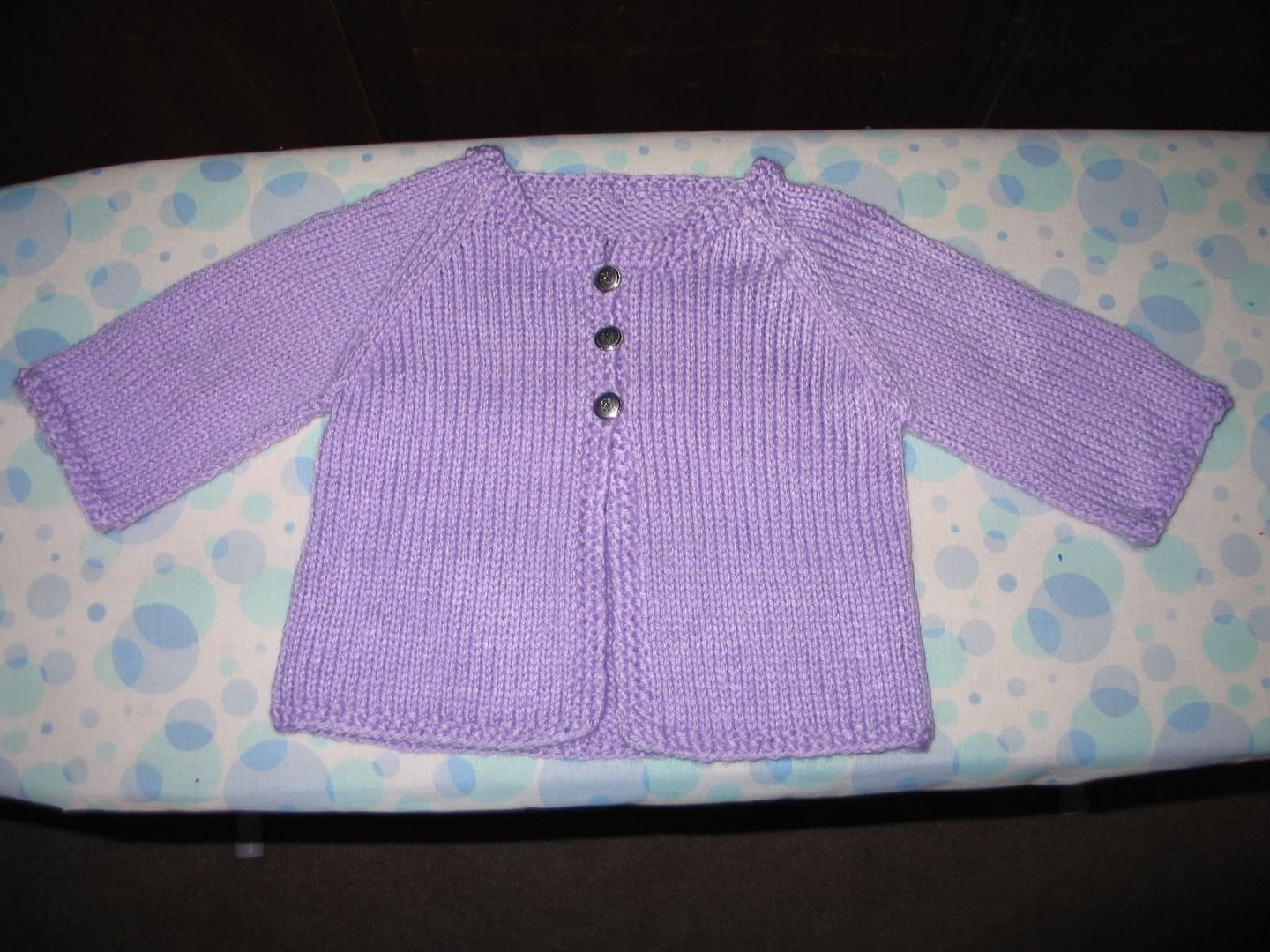 And, here are some pictures of the soon-to-be parents opening their gifts! (I also bought them a pimped out high chair... but I'm sure you don't want to see pictures of that).