Since my blog went on hiatus two years ago, I came into possession of a lovely new sewing machine. My wonderful boyfriend bought a Janome 4623 Limited Edition Plus for me for my birthday. I've made a few things, including some skirts, and a purse (which needs to be repaired before I can finish it), and this jean quilt blanket that Jonathan and I use for camping. I've also bought lots of patterns and lengths of material that currently just gather dust (kinda like my yarn stash).
Last night I was browsing around the internet, and happened upon this gem of a website (
http://www.dressaday.com/dressaday.html
) dedicated to dresses! I had so much fun looking at all the pictures, and reading her posts that it inspired me to start sewing some more again. My first project will be the short, strapless dress from this pattern: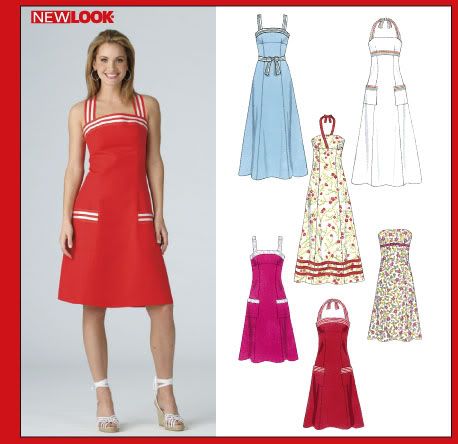 I have this pretty blue and white fabric, with these tiny little flowers on it, that would be perfect for the dress. I just need to pick up some ribbon, boning, and a zipper. I'm thinking that, after it's done, I should make a little knitted shurg to go along with it.